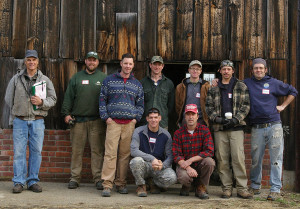 In 2010, The Stone Trust was founded as a registered nonprofit organization. As the Stone Trust founder and president from 2010-2014, Jared Flynn helps facilitate their mission to preserve and advance the art and craft of Dry Stone walling. The Stone Trust provides education, training, and consulting services and advocates for the preservation of existing dry stone walls. Its curriculum incorporates the global industry standards developed by the Dry Stone Walling Association (DSWA) of Great Britain to promote the correct structural standards for the construction and restoration of dry stone walls.
With a shared Mission of Historic Preservation Education, Flynn worked with the Landmark Trust USA to Restore and reuse their 1862 Scott Farm Cow Barn into The Stone Trust Center. Flynn helped the Stone Trust Design and Build the first Dry Stone Walling Education Center in North America to facilitate DSWA Levels 1-3 certification tests and provide Educational opportunities for homeowners, contractors, designers, and government agencies. The Stone Trust Center is open to the public year round and offers over 1000 sq feet of dry stone walling examples.
In 2011, Flynns work with the Stone Trust Hosted the Dry Stone Walling Association's Instructors Training course. The two-day course offers Instructor Certification for professional wallers who hold an DSWA intermediate level 2 certificate or above. The Stone Trust continues to serves as the North American provider for the course. Flynn also works as a Stone Trust Test Site Coordinator, which organizes pre-test practice days at the center and facilitates 3 testing days a year for test candidates and examiners.
As a DSWA-certified instructor, Flynn hosted 10 Stone Trust Historic Preservation workshop on the Landmark Trust Dutton Farm House Wall. The Five years project trained hundreds dry stone enthusiasts who learned the basic structural techniques involved in the dry stone construction of a 900-foot freestanding farm wall.
Flynn work with Brian Post to design The Stone Trust Features Park.The Park is a major resource for the Stone Trust's Advanced Workshops and Certification. The walls were Designed to have a Dual purpose that meet the needs of Professional wallers working on their certifications while serving as work stations for practicing workshop participants who take down and rebuild the walls several times a year. Over 3000 square feet of walls are constructed to serves as a public display area showing examples of DSWA and DSC advanced and Master features including a Arch, Pillars,High Wall, Retaining Wall, Sloped Walls, Right Angle,Step and Squeeze Styles,and a few Cheek Ends. Irish and Scottish Style walls provide additional Regional Walling Styles for viewing and skill building. The Park provids the resources nessary for Advanced Dry Stone Walling Education while creating a infastracture for workshop sustainablility.
All examples of the Dry Stone features can be seen throughout New Englands Landscape and connects us to our Agriculture History. The Stone Trust is excited to be shareing a mission of Historic Preservation Education with the Landmark Trust and Scott Farm and look forward to offering economic diversity through agrotourism at the Farm.