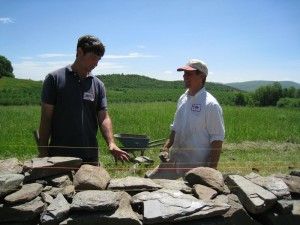 As a DSWA Certified instructor, Flynn is qualified to lead walling workshops for groups interested in learning the correct structural techniques involved in dry stone wall construction. Over the years, hundreds of participants have helped Flynn develop his instructing style. Using instructional videos, visual flip-charts and hands-on constructing, Flynn supports participants with many different learning styles.  Projects are never the same and Flynn's experience allows him to customize his instruction to accommodate all groups and situations.
Upon completion of a workshop, participants should have a basic understanding of the correct structural techniques involved in the building of a dry stack wall. The course curriculum includes safety, material management, batter, hearting, throughs, and coping. The age-old method of pin and feathering (splitting of stone) can also be included. The knowledge gained will prepare participants for their own future projects and train their eyes to identify proper walling techniques in all walls.
To bring out the waller in each of us, workshops can be tailored to meet the needs of kids, adults and seniors, in groups of any size. Flynn's guidance provides all the necessary information to lead a group in the rebuild of an existing wall or in the construction of a new wall or structure. He can help with the design of your project and facilitate the organization of the materials needed for construction.
All you need is a day to learn the ancient craft of Dry Stone walling. The knowledge gained will last a lifetime. To inquire about organizing or attending a workshop, email jared@vtstone.com.