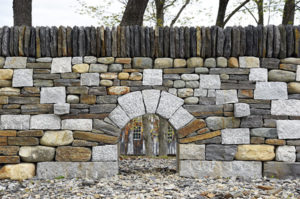 Where ever you drive in New England, you can see evidence of our cultural heritage. From old barns to covered bridges, these landscape features spark intrigue and wonder for a world not long past. Most notable are the stones that have been picked and piled into walls.  These stones serve as a natural resource that have stood the test of time as a reliable material for building stone walls, foundations, abutments, fencing, and boundaries. It is estimated that there are over 252,000 miles of walls scattered throughout New England and New York.
Flynn's supports the work of the Landmark Trust USA and the Stone Trust organizations who missions of preservation  honors these walls and structures  for future generations to enjoy.  Together, they have created the only indoor center in New England dedicated to the craft of dry stone walling. Located in the Scott Farm's 1862 Cow Barn, the Stone Trust Center is open to the public and provides educational opportunities for all levels and abilities.  As a certified instructor, Flynn promotes the craft with indoor talks and workshops as well as outdoor historic wall rebuilds for dry stone wall enthusiasts.  Over the years, Flynn has restored thousands of feet of dry stone walls in workshops and for private clients.
As a founder of the Stone Trust, Flynn is dedicated to the preservation of existing dry stone walls and structures as well as the promotion of  correct structural standards for the construction and restoration of dry stone walls.
If you want to discuss a project call 802-579-6811 or email me at jared@vtstone.com
Click here to view catalog of Historic Preservation work.